It's the time of year again where trend forecasts are coming through for 2017. As ever Dulux are at the forefront of the colour trends and have again come up with 4 fabulous concepts that encapsulate the upcoming trends for next year. Take a look below at these predictions and see where you might use one of these beautiful on trend combinations in your space.
ENTWINE
The Entwine colour story is about how we respectfully bring together the modernity, traditions and cultures in our diverse society. This is about taking a global view on cultures and being inspired respectfully by these locally. This interior style is eclectic with modern pieces that are weaved and rich in saturated tribal colours such as red, burgundy, brown, and orange that are all brought together with hits of bright yellow and blue, inspired by landscapes from South America through to the Middle East. We are already seeing lots of weaved products in our homes such as flatweave rugs, basket, furniture and wall hangings, however we moved away from the warmer rich colours favouring cooler blues, greys and whites so I'm interested to see how these autumnal rich colours will play out in the interior design space.
CONSTRUCT
This story focuses on materials and form with a real permanence to the structures created but a super simple aesthetic is key.  Moving away from the replica culture in what is now a throwaway society with a view to creating a more solid and authentic interior. Brutalism an architectural period is a big inspiration here, the colours are real but not traditional and geometric shapes from the Bauhaus period which create a feeling of luxury through raw materials, structure and form. Concrete, steel and galvanised finishes are paired with tonal colours such as blues and greys then adding warmth with the use of cooper, platinum and rust.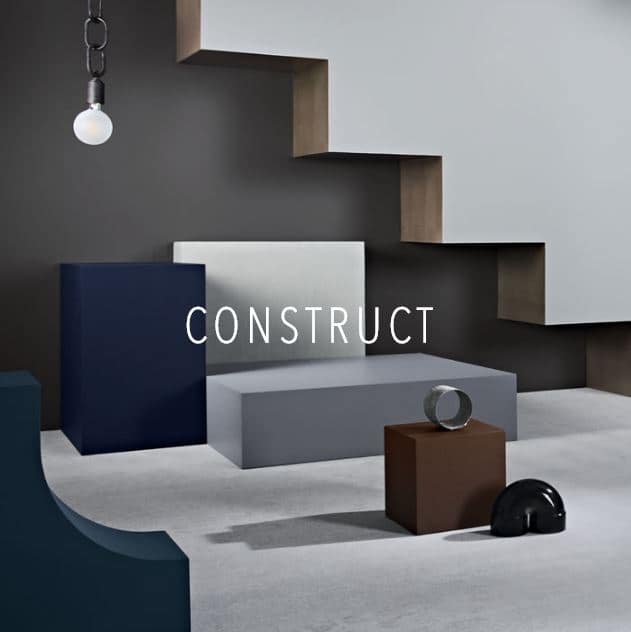 SENTIENCE
Texture here is a remedy for the senses, in a time where we spend much of our day with a screen in our hand swiping and scrolling a smooth surface which has come to replace those more tactile moments of times where we read and actual book or newspaper. We crave that texture as humans, and so it may feel natural to want to move away from cold smooth surfaces and inject more tactility into your space. So introducing more texture here is the key, with colour tones that are fleshy and organic in nature. All colours in this story are derived from nature with a bias to the lighter muted earthy tones.create gmail account
CHROMA
This is a super graphic modern style that will feel quite familiar to us with it's focus on the post-modern movement. It's a far cry from the light neutral timber filled interiors that we've all adopted over the past few years. This story is highly chromatic and filled with saturated colour. Peach, melon, yellow, teal and blue are all key players in this concept as are black and white important colours as a backdrop. From block colours to shapely furniture we will see these colours play out in all forms. We will see the mid-century style evolve into more modern chromatic spaces.
To see the full colour forecast and for all credits for the images included in this post please refer to: http://www.dulux.com.au/specifier/colour/colour-forecast-2017