V Groove, VJ, Shiplap, these terms basically mean the same thing. This is a v shaped groove either vertically or horizontally on the surface of a panel, or created by the joining of 2 surfaces. This can either be created by cutting that V groove into a panel or by locking panels together to create the feature, often called VJ panelling. It's a feature that has become more popular than ever over recent years. And I find it works in many styles such as coastal, Hamptons, retro 60's and 70's homes and also in more contemporary styles. So let's take a look at how you can incorporate this highly versatile feature into your home to create interest and texture in areas that need it.
JOINERY PROFILE
I'm a big fan of this having worked in vgroove on most of the joinery in my home. This can be a great addition if you already have a home with 70's cedar panelled ceilings all walls which is what we had. Or if you have a weatherboard home and want to continue that look internally. By adding the groove to your kitchen joinery, wardrobes, laundry and pantry it will add interest to these areas that reference to existing features in your home and create a feature reference to flow throughout your whole space.
VGroove on robe doors
You can also add vgroove to your joinery even if you don't have any through the rest of your home. Maybe you want to highlight the island as a feature and run the groove horizontally like we did here in our Randwick project: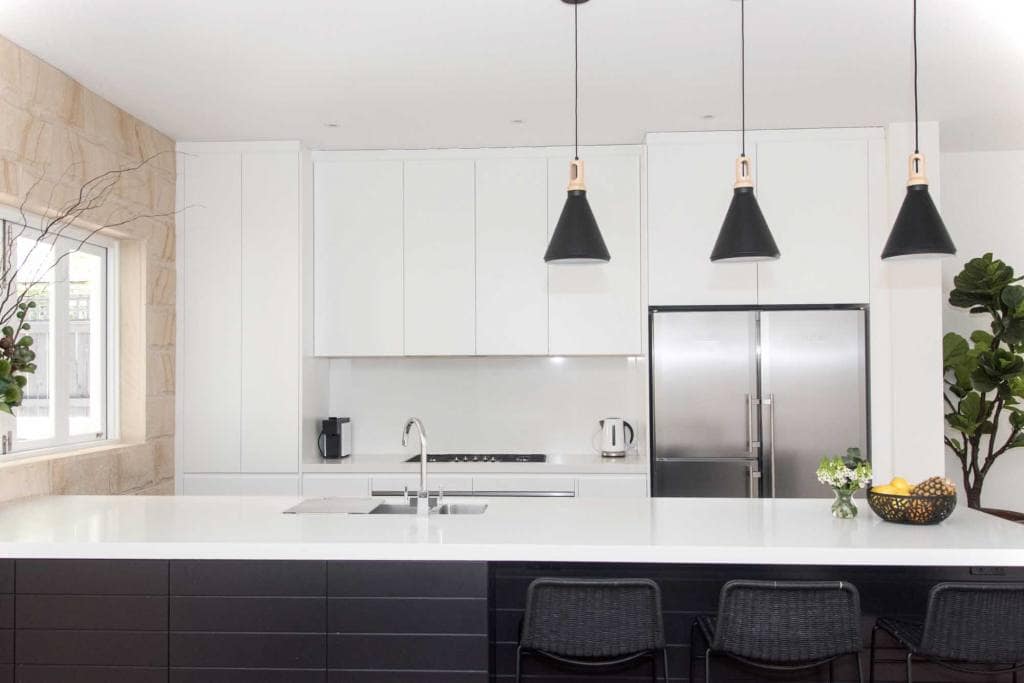 Horizontal VGroove on kitchen island
Or perhaps you would like to add it to your whole kitchen and pantry area for texture. And like this kitchen don't think that the grooves have to be equally spaced. For more interest here we spaced these out with 2 different measurements so it looked less uniformed.
INTERNAL WALL CLADDING FEATURES
Now this is where we've really seen the VJ taking off. I call it VJ as in this instance most wall cladding is referred to as VJ for this style. Here you can apply as a feature to walls in say an entry area, or if you have a long blank wall in a hallway, but also I've used it on ceilings, behind TV's and also as a feature wall behind beds. You can VJ half way up and cap it off with timber and leave the wall above blank, this is a more traditional application and I think works beautifully in more rural areas.
Whilst I haven't done this myself you can also use VJ in bathrooms, just ensure you use the right product for wet areas:
EXTERNAL CLADDING
Not technically vgroove or VJ but still gives that effect. Weatherboard or cladding can also create that vertical or horizontal groove or shadowline texture that has become more popular of late. I've always been a fan of a weatherboard home, and more and more my clients are applying weatherboard over brick just to get that classic look, some say it's coastal I say it's quite traditionally Australian.
Also cladding these days can be applied in a super cool modern way to highlight interesting architectural areas of your façade. There really are no limitations. The lovely thing about this is you can paint it any colour you like, or for certain materials you can order them in prefinished in say a Colorbond colour. Again a really fabulous way to create feature where needed with a very low maintenance option for exteriors.
So whether you have a modern home, a retro 70's space or a coastal cottage it doesn't matter this finish can be adapted to work for you if you love it as much as I do!
Happy decorating.