Wow I've had this conversation A LOT recently with clients. Might be down to the fact that I've got about 15 bathrooms in my portfolio at the moment that I'm in the middle of designing. And of course storage areas are always top of the list when it comes to designing bathrooms. Everything needs it's place especially in the shower area that can look very untidy very quickly.
So let's think about this for a moment, I'd say 80% of shower areas designed in the last 10 to 15 years have shower niches for storage. You know what I mean, the cut out in the wall, varying in heights and size that often in the past got tiled with a feature tile, yep that's the one, the shower niche, see a nice example below from one of my previous projects.
Now I'm not saying I'm against the shower niche, it definitely still has it's place. What I tend not to recommend these days though it tiling a contrasting feature tile at the back of the niche, I think we are starting to move away from this trend now and so could date your bathroom more quickly than you'd like. It's also something that dominates in terms of a feature, I'm not sure that this is the best thing, to highlight the spot where you keep all of you wash bottles! So if you are planning a niche just tile it in the same tile as the surrounding tile.
Let's talk about 'the ledge'. I'm a MASSIVE fan of the ledge. This is where you build out wall to wall a half height wall creating a ledge or shelf in the shower. This gets fully tiled either in the same tile as the rest of the walls in the bathroom, or perhaps a whole wall of feature tile like my recent project below. I topped this one with stone so we didn't have to use any tile angles to finsh that feature tile:
Or what I'm doing a lot of now is a feature tile above the ledge and the wall tile from the rest of the bathroom below, this creates such a lovely contrast and really highlights this area of the shower. See below example of a render for a bathroom I designed under construction as I type, this ledge runs right through from the bath into the shower space:
I just think the ledge is a neater, cleaner, more up to date way to create that storage space and feels seamless and integrated into the bones of the bathroom. One continuous line is much easier on the eye, which is why you can feature tile this area and it doesn't take all of the attention away from the rest of the bathroom.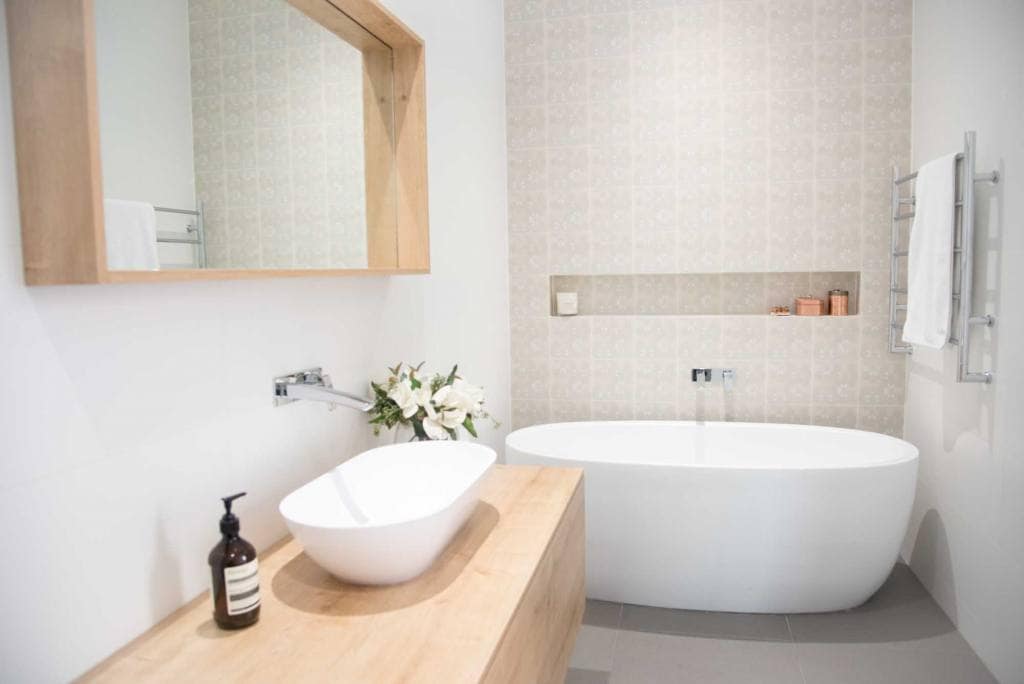 As I said I will often still specify a niche, these days more linear in design and less square as again I think this is a fresher take, but only where space is tight and I don't have the depth to build out a ledge. It might just be me, but I'm a big fan of the ledge, are you with me?
Happy designing!