If you're a regular reader… you'll know I'm not a fan of The Block!
I've always found that the show is less about design and more about the site antics, rivalries and high street plugs and sponsorships.  Sure, I know they need to turn a dollar, it's just not my thing.
But as so many people talk about it and reference it, I sort of felt I had to give it a go… and have found myself kind of enjoying this latest season.
As last night was the first round of main living areas, the living and dining rooms, I thought I'd chuck in my two cents worth.
As a general comment I do find the team dynamics interesting.  On any build (TV show or not), and this applies to life situations as well, those who have a plan and stay focused towards making it happen, tend to get the results.
Those who choose to focus on infighting, the blame game and what's going wrong, don't perform as well.  Either they seem to have huge highs and low and any positives seem outweighed, or generally nothing goes right.
And the same is seeming true on The Block, which I won't get into.  But it's really interesting that of the five competing couples, only one stays largely out of infighting and they currently have the clearest idea of what they're delivering (design wise) and are consistent.
Yet on the other end of the scale you have a couple at odds with other teams and themselves, who are hit and miss but even when they hit…they can't enjoy it!
Anyway… back to design.  So in scoring order:
Dan and Carleen – this week's winners – it was a mixed bag for me.  The dining area was great and I loved the round dining table and chairs.  But the living area was a bit of a miss, mainly due to their entertainment unit.  I agree that they got the lux look… it's just not my favourite style and their delivery felt lux high street.  And no under floor heating was a big error in my books.
This was a departure from there bold art-deco styling and, I feel, saw them playing towards the judges scoring rather than an art deco niche, which in fairness saw them score poorly.  They're playing the game… but what's their style and how will it all come together?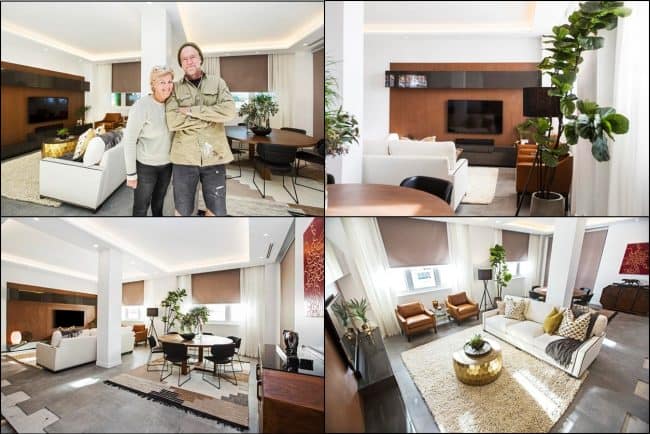 Julia and Sasha – 2nd place – although scoring equally with Dan and Carleen they were just pipped at the post.  And I have to say on the design side they deserved to win it. The choices were excellent and it was impressively executed by one person (it's a long story).  If you wanted to pick holes you could argue the dining table could have been bigger and the living room needed a rug, just to soften the edges a little.
I really feel for these two as they're good, but have little to no confidence and this experience could break them!
Ben and Andy – 3rd – unfortunately they couldn't follow up last week's perfect score… possibly a little humble pie for the self-professed style king!?
The colours were muted and the lighting was ok, including the pot down lights for the artworks.  The dining table was a bit small but the Eames chairs worked, however I wasn't a fan of the logo.  I think they fell onto something that worked (logos and packaging artworks from the factory) but are in danger of taking it too far. This looked more like a footy logo!  As a result, the space was rightly pointed out as a blank canvas – nothing was awesome and nothing terrible.
And a general complaint I agreed with, all the TV recesses were too high, including the boys.
Kim and Chris – who came 4th – just can't catch a break!  This room is a nearly… it has all the right stuff but maybe not in the right proportions (i.e. the dining table and rug) or places.  I do however think the brick work was unnecessary, and to a lot of people coming into the space it'll me marmite – you'll love it or hate it.
And… again with the with TV recess!
Finally, and last of the TV recess offenders, Will and Karlie.  Unfortunately, as they couldn't polish their floors yet, the overall effect was missed, which probably resulted in their last place.
I think that's a travesty and thought they had this in the bag. The main criticism was overfilling the space and making it feel smaller, which is an easy fix.  However, the polished concrete may need warming up, hence all the materials and hence the missed effect.  The black wall and large format photo-art were great, a nod to heritage but not as obvious as Ben and Andy.
Conclusion: for me Will and Karlie have the best conceptual view of their design vision with their In-Deco (Industrial-Art-Deco) style.  They also have great delivery and finishes.  However, the boys, Ben and Andy are smart and maximising bedroom space and an extra bathroom could see them taking home the win!
Julia and Sasha, with their penthouse views, could also be in the running if they can pull themselves together.  After all it's the only apartment with that city space view and people will pay for that!
As for Dan and Carleen, and Kim and Chris… right now I couldn't say.  I think Kim and Chris's style is too mainstream and won't result in the high-end price tag, especially as they don't have the clear city view.
I think, however, Dan and Carleen could pull off something special in the art-deco niche, something money can't buy, and this could get them a premium.  However, if they continue to mix styles, they may erode that opportunity.  Plus… that's all dependent on the right buyer anyway!!!
Interesting times ahead on The Block
Images supplied by : https://www.theblockshop.com.au/